THE STAFF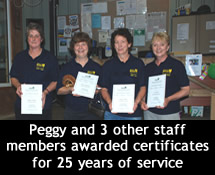 Erme Riding for the Disabled Group is run by a trustee committee and are fortunate enough to have:
Three senior instructors
Three group instructors
Several assistant instructors
50 trained volunteers
The volunteers are an essential part of our team. It may require as many as 3 volunteers to help each client; helping with guiding the horse, balance and teaching new skills. If you are interested in volunteering with our organisation, have a look at the profiles of some of our staff below and call us on 01752 894348.
Peggy Douglas
Senior Instructor and Managing Director
As well as being a senior instructor, Peggy is also the founder of the Erme RDA, which started with only two children and two parents!
Jane Lankester
Deputy Managing Director
One of the Erme Valley RDA's longest standing members, Jane has been with the group 30 years.
Joy Watts
Senior Instructor
Joy has been a helper an instructor at the Erme Valley RDA for 30 years, and is constantly inspired by the overwhelming benefits of horse riding and its astounding effect on those with disabilities.
Ella Reade
Director and Group Instructor
Mary MacLachlan
Instructor
Erme Valley RDA stalwart, adored by all who know her and affectionately referred to as "Mary Mac!" Mary is also a retired physio and the "Senior Admin Officer".
Sue Partridge
Instructor
Jeannie Frape
Instructor
Judy Williams
Helper
Judy has been a helper for many years, having originally been with the South Hams RDA. Judy is also the groups diplomat and all around PR person
Cathy Pearce
Director, Parent Representative 
 Ginny Crawley
Director and Press Officer
Anne Baker
Director, Parent
Anne's area of responsibility is fundraising
Hannah Rogers
Director, Rider Representative
Jo Harper
Instructor
Sue Johns
Director / Instructor / Treasurer