Erme Valley RDA's 'Monday Group'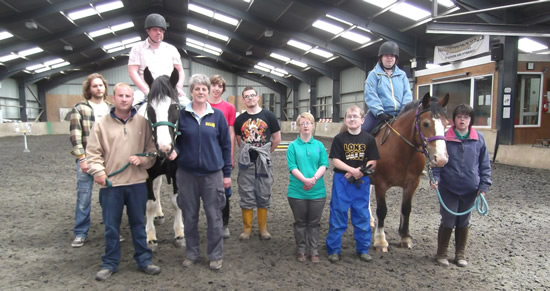 The Erme Riding for the Disabled Group has almost 160 riders who face a variety of physical, cognitive, sensory or social disorders, and indeed many face a complex combination of the four. However, whatever the difficulties they face all our riders find that their experiences at the Brook help them to gain in independence and self sufficiency and contributes towards their emotional and social growth, not to mention the physical benefits.
In return, each rider brings with them their own unique character and spirit that makes them as invaluable to the Brook team member as the instructors, volunteers and horses. Here we celebrate their triumphs.
Hannah Rogers
Rider
"Hello! Horses and Equestrianism are my passion. Since coming to Erme Valley I have had the opportunity of undertaking Dressage; which I love. Not to mention the many friends I have made. It has been a very challenging and wonderful road and such a benefit physically. Thanks to the encouragement and dedication of the groups amazing volunteers, I have successfully mastered simple Dressage movements with support. My long term goal is to ride independently."
Anthony Loughram
Rider and Trainee Instructor
Anthony has been riding at the Erme for over 6 years now, and is a testimony to the power that horse riding can have for people with disabilities. Anthony works at Tesco's, but spends every spare second he can at the Brook, riding, helping with the horses and voluntering. He has done so well that he is now the National RDA Dressage Champion and a trainee instructor.
Sarah
Rider
"I have been riding for 3 years. I can walk and trot and do simple dressage. I came second this year. I would like to learn to canter."
Alyssa
Rider
"My name is Alyssa. I am 25 years old. I love horse riding, helping at the stables, playing tennis and bowling. I work at Morrisons 4 afternoons a week. My parents live in France and sometimes I visit them. I help out at the local church and go to church every week. Mt best friends are Vanessa and Sarah. They also go to horse riding."
Kriss
Rider
Kriss has been riding for a year and works at the stables on a Monday morning.